MAS content tu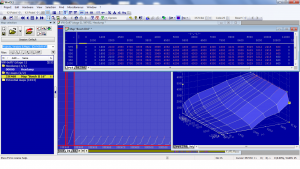 ning files
MAS Performance can create tuning files for your vehicle so you can manipulate the performance of its engine. There are several things you can change when you use a tuning file in your vehicle's engine control unit (ECU). 
For example, you might want to alter the air filter so it has less resistance. You can also change the amount of horsepower and torque your engine has at various different RPMs. If it's a feature or facility that can be manipulated through your ECU, then the right tuning file will do it for you.
What's in a tuning file?
Quite simply, a tuning file is a computer file that contains the data necessary to manipulate, change or recalibrate the engine of a vehicle through its ECU. These tuning files are also known as erasable programmable read-only memory, or EPROM, files. This means that they retain the information in them even when the power supply is disconnected.
A surprising amount of work goes into tuning files
It's not as simple as entering a few values into the files and hoping that the new information will make an engine work in exactly the way the owner wants. There's a lot of work and testing going on behind the scenes when it comes to developing tuning files. Some of the world's major tuning file developers take several years of tweaking and testing before they have the right data to get the absolute best out of a specific engine that's installed in a specific car. 
It only takes one small error or transposition of code to throw the entire file out of balance, which in turn throws the performance of the engine out of balance or makes no difference to the engine at all. 
Where do MAS' tuning files come from?
There are many companies and coders on the market that create their own tuning files and offer tuning files services. It's very important, then, that you get your files from a professional tuning files developer that has experienced coders and performs lots of in-house testing. A tuning file service in the UK might be pricier than just buying files online, but you'll get better results and also a guarantee, just in case something does go wrong.
MAS has a wide range of tuning files
We can offer UK drivers tuning files for use with all of the master tools currently available on the market. We can supply MPPS tuning files, as well as Alientech, Byteshooter, Piasini, Galletto, BDM, MAGPRO and Dimsport. All of the tuning files we offer have been created by our expert developers and tested and refined by running tuned cars on our state-of-the-art rolling road.
Our rolling road
Our 2WD rolling road is at our Skipton workshop. With it we can measure horsepower and torque for power runs, steady state tuning for live remapping and standalone engine management systems, as well as diagnosing faults and problems.
The rolling road has a comprehensive data acquisition system so we can collect all the information we need from the engine, such as exhaust gas temperature, air to fuel ration and so on. This makes it much easier to get an accurate set-up in order to get the best results from an engine. The data is most often plotted on a graph for ease of interpretation.
What we can offer you and your vehicle:
Performance tuning for cars, trucks, tractors and motorbikes

ECO Tuning for lower fuel consumption

Speed limiter removal or deletion

Diesel particulate filter (DPF) removal or deletion

Exhaust gas recirculation (EGR) removal or deletion

DTC removal, which deletes individual error codes from the ECU

Customised activations or deactivations

Direct-shift gearbox (DSG) tuning, and

Dyno tuning software to help with general tuning and remapping.
Is there a file tuning service local to me?
We're based near to Skipton in Yorkshire, but we do have a mobile service which covers most of the UK, so contact us to discuss your needs.
MAS Performance is open for file tuning services between 8.00am and 9.00pm from Monday to Friday and between 8.00am and 1.00pm on Saturdays. We can offer an out-of-hours service with prior arrangement. For most customers, we can turn around the files within an hour or so and you can also use our online file portal to upload files and buy credits for our service, as well as for the WinOLS re-seller database.
To make use of our file tuning service, send us the original file with the details of your requirements and specifications to sales@masperformance.co.uk. We'll also need all of the vehicle details, including the model, year and engine size.
We also keep a copy of the original tuning file that you give us to work on so that we can revert your ECU to its previous settings if you need us to at some point in the future.
Our tuning files are so well-regarded that a lot of the big names in the vehicle tuning world use our tuning file services themselves.